Strategic Management Partners, Inc.
Celebrates 20 Years in Business
Providing Quality Services to Our Clients
Strategic Management Partners


A nationally recognized turnaround management firm
specializing in interim executive leadership, asset recovery,
and investing in underperforming troubled companies.
Home Overview Library Press Site Map Contact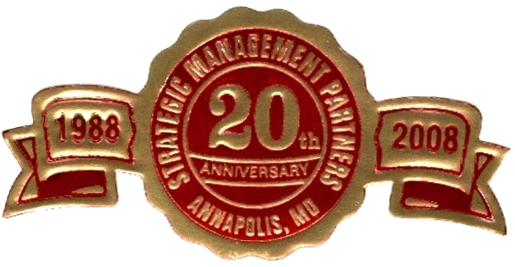 Strategic Management Partners, Inc. was founded in 1988 by John M. Collard, President and Chairman. We are celebrating 20 years of providing quality services to our clients. We are an internationally recognized turnaround management, corporate renewal and equity capital investing and advisory firm. We are Turnaround Operating Managers, Equity Managers, Investors, Experts, specializing in deal flow, asset recovery, corporate renewal, investing in underperforming distressed troubled companies, and valuation enhancement. We purchase companies for our own portfolio, raise equity funds to increase leverage. We provide Transition Leadership for companies to shift between commercial, international and federal government markets. We focus on Value Creation, Asset Recovery and Revenue Generation. We prepare companies to 'Cash Out' at maximum valuation.

Strategic Management Partners, Inc. is the 2007 recipient of Small Business of the Year, Maryland State Chamber of Commerce, and the Governor's Citation, Governor Martin J. O'Malley, The State of Maryland. SMP has TWICE been named among the 'Top 12 Outstanding Turnaround Management Firms' by Turnarounds & Workouts Magazine.

Our principal, John M. Collard, was recently inducted into the Turnaround Management, Restructuring, and Distressed Investing Industry Hall of Fame. Collard has been honored by the Turnaround Management Association (TMA) as a recipient of their [TMA] award for Outstanding Contribution to the Corporate Renewal Profession. He is a Past Chairman of the TMA. He has been honored by Southern Illinois University (SIU) by being inducted into the SIU Alumni Hall Of Fame, and named as a Business Leader of the Year. John M. Collard is a frequent speaker, often quoted by the press, and has authored many articles on the topics; Early Warning Signs of Business Trouble, Working With Turnaround Pros to Preserve Value, Value Creation Model, and Investing in Underperforming Distressed Troubled Companies, and many others. See www.StrategistLibrary.com.

For an overview of the firm, our successes, our credentials, how we can help you, Please see: Your Requirements, Our Qualifications and StrategicMgtPartners Library
SMP Twice Named Among Top 12 Outstanding Turnaround Management Firms
In 1993 -- and Again In 1995 -- By Turnarounds & Workouts Magazine
Job Shop Manufacturing, Manufacturing, Discrete Manufacturing, Process Manufacturing, Wholesale Distribution, Federal Government Contracting, Defense and Aerospace, Defense Electronics, Computer, Systems Integration, Telecommunications, Telecom, Maintenance and Repair, Printing, Construction, Engineering Services, Communications, Marine Electronics, Marine and Boating Services, Services, Venture Capital, and Private Equity Investing
John M. Collard, Chairman, CTP
Strategic Management Partners, Inc.
522 Horn Point Drive
Annapolis, Maryland [MD] 21403
Voice 410-263-9100 Facsimile 410-263-6094 E-Mail Strategist@aol.com
About the Principal About the Expert SMP Brochure
Please contact us to discuss your needs, and how we can help. 410-263-9100

We welcome constructive inquires, please send via E-Mail to: Strategist.
We turn around troubled companies, recover assets for investors, and invest in underperforming distressed troubled companies. We serve as experts for advisory, comment or quote. How can we help you?
Copyright &copy 2007 Strategic Management Partners, Inc.